Teaser for Live Concert DVD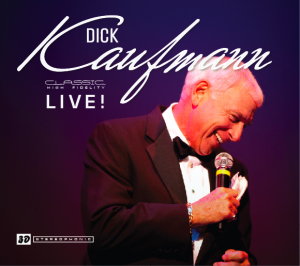 Your favorite songs of autumn, performed as you've never heard them before. The Historic Atlas Theatre. A magnificent ensemble seated by the finest musicians in the Nation's Capital. Standing-room only. A golden smile and voice evokes the warmth of September. This is his night — nearly 50 years between curtains.
Dick Kaufmann Live! is the remarkable story of dreams frozen for half a century — then brought to life in rich, vibrant color. It's a journey you won't want to miss.
This collection is the first in a series of new jazz recordings from Kaufmann Enterprises. Don't forget to grab it and your copy of Dick's debut, Just In Time, at the shop tab today.
CONCERT
01. Orange Colored Sky
02. Where or When
03. Just in Time
04. My Funny Valentine
05. Blue Skies
06. Side by Side
07. Dreamland
08. I Love Paris
09. September Song
10. Sentimental Journey
11. Softly, As I Leave You
12. Almost Like Being in Love
13. Somebody Loves Me
14. You're Just in Love
15. Oh, What a Beautiful Morning!
16. Try to Remember/
17. In the Wee Small Hours
ENCORE
18. You Gotta Have Heart