Biography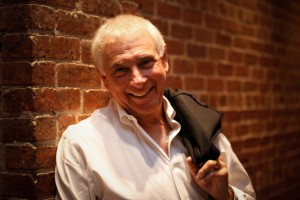 Kaufmann, a lifelong resident of Washington DC, fell in love with jazz and folk music as a child.  He attended American University, where he was first bitten by the "performance bug," when he sang in local venues in a folk music trio.
But that bug lay dormant for a half century (Dick practiced law for 20 years, then went into business for another 25) before the butterfly emerged from the cocoon.
Dick and his wife of 50 years were on a cruise chartered by Garrison Keillor's A Praire Home Companion when he decided to enter a talent competition. After his performance, Richard Dworsky (the cruise's music director) suggested they do a record together. As fate would have it, Dworsky's schedule would prove challenging and he introduced Kaufmann to Lee Musiker — music director and pianist for Tony Bennett and Barbara Cook.
Working around Musiker's hectic travel schedule, Kaufmann took two years to complete his debut record, Just In Time. But, as he says, "it was well worth the effort. Lee's arrangements and the musicians he selected and managed were the very best. I am convinced that he put as much effort into working with me as with his celebrity clients — for which I'm eternally grateful."
From the record's first note, a remarkable sensitivity unfolds. It's difficult to imagine that this is Dick's first musical offering. Talk about making an impression!
Energized by the experience of Just In Time, Kaufmann moved to fulfill a lifelong ambition — to stage a top-notch concert for his seventieth birthday. In preparation for the magical evening, Kaufmann created a circle of experts…event planner, vocal coach, wardrobe and makeup stylist, marketing director, photographer, five roaming videographers, sound engineering team, lighting expert, stage manager, support hands…and the sweetest backing group on the Potomac, Chaise Lounge, with local bandleader, Charlie Barnett.
From the arrival of the first guests, the venue was quickly abuzz for a man who had achieved and given so much, but had opened yet another chapter in his life. The historic Atlas Theatre in Washington was packed to capacity when Dick and his band took to the stage to the Nat King Cole classic, Orange Colored Sky. "Flash! Bam! Alakazam! Wonderful you came by…"
Dick's dream then brought him to the Renaissance-inspired Germano's for a dinner and fundraiser in honor of Wounded Warrior Project. A popular spot on the High Street corridor of Baltimore's Little Italy district, the restaurant welcomes rising talents every Friday, Saturday, and Sunday evenings.
"I'm starting to like being the new old guy," admitted the crooner.
The atmosphere was warm and nostalgic. There were old favorites, an original duet, stories, and laughs shared. All were orchestrated by the ageless Kaufmann and Barnett. Like the Atlas show before it, the repertoire was artfully chosen. One of Dick's great strengths is his ability to craft a memorable soundtrack.
Perhaps the most poignant selection was the closing number, Bring Him Home, a song originally featured in the musical Les MIserables. The moving rendition was a fitting tribute to his son, a soldier who was injured in battle.
Kaufmann is currently working on a second album with Lee Musiker. He will stage his next charity performance for Wounded Warrior Project on November 11, 2012 at Washington Hebrew Congregation in the District of Columbia.