Audio Tracks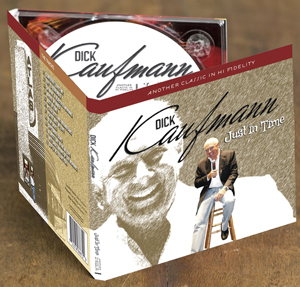 Dick Kaufmann's amazing journey began with an introduction to Lee Musiker at Nola Recording Studios in New York. Musiker is the Emmy Award-winning conductor and musical director for Tony Bennett and Barbara Cook. His masterful work can be heard behind Dick's silky renditions of the classics Softly As I Leave You, In the Wee Small Hours, Blue Skies, and Where or When. At 70 years young — Kaufmann performed a sold-out debut concert at the historic Atlas Performing Arts Center, during which time he released his debut record, Just In Time. This was followed by a sold-out cabaret evening to benefit Wounded Warrior Project at Germano's in Baltimore's Little Italy. Next up: an event at Washington Hebrew Congregation.
Chaise Lounge is his Dick's backing band of choice for live performances. The Kaufmann/Musiker collaborations are featured here with permission from Harry Fox Agency.
Audio clip: Adobe Flash Player (version 9 or above) is required to play this audio clip. Download the latest version here. You also need to have JavaScript enabled in your browser.
Chaise Lounge is showcased here, courtesy of CD Baby's "Top Sellers" podcast series.
Audio clip: Adobe Flash Player (version 9 or above) is required to play this audio clip. Download the latest version here. You also need to have JavaScript enabled in your browser.
Mobile Visitors — we're exploring a workaround for devices that are not Flash-enabled (eg. Apple's iPhone). Without Flash technology, the audio here won't play for you.
Cover artwork above by Eric S. Townsend. Photography by April Sims.